Police Physical Agility Training Requirements
Every police department has their own set of physical training requirements that must be met by potential recruits. The bad news is that if you do not pass all of the elements administered during testing, then you will fail the whole physical test, which means you won't be able to continue on in the hiring process. The good news is that most people have the potential to pass this test and it is generally used to measure ones physical agility & endurance, rather than brute strength. The cost for attending a physical agility test will depend on the department to which you are applying. Smaller departments typically administer the test for free, whereas larger departments may require you to pay close to $100 to be tested at a 3rd party testing facility. The important thing to consider doing before taking one of the police physical tests is finding out what exactly you will be tested on and making sure you can do everything beforehand. A good rule of thumb is to start training 2-3 months before you take the actual test so you can be sure to excel in all of the areas in which you will be tested. Another piece of advice is to work on these exercises with a partner or friend, preferably someone that is well-versed in physical fitness, such as a personal trainer or competitive athlete.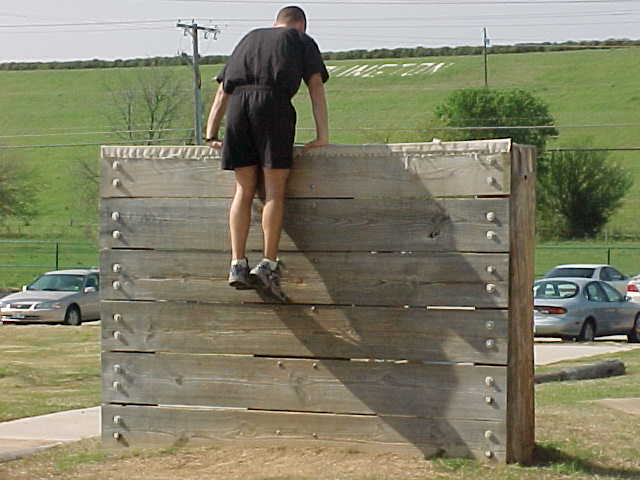 How to Start Preparing:
Run a few miles 2-3 times each week and time yourself; aim to improve each time
Practice sprinting a distance between 400-500 yards (about a 1/4 mile)
Be able to run 2 miles with at least an average time of 8 minutes per mile
Lift weights. Make sure you can bench your own weight and properly work out your main muscle groups
Be able to do at least 25 pushups/35 sit ups in under a minute
Practice some of your agility training (jumping, running bleachers, climbing fences) with a weighted vest
Hire a personal trainer in order to ensure maximum performance
Practice climbing over an 8-10 ft. wall and fence
Be able to drag or carry a 150 lb. body a short distance (around 10 yards)
Join a sports team to increase endurance [Basketball, soccer, & tennis are good ones]
Don't forget proper stretching techniques and warm ups before fully exerting yourself!
Standard Police Agility Test Guidelines:
Complete 25-40 pushups in under a minute using correct form (see below)
Complete at least 35 sit-ups in under a minute using correct form (see below)
Be able to run 1.5 miles in less than 14 minutes
Be able to sprint a quarter mile in less than 90 seconds
Be able to climb an 8 foot wall, followed by a 20 yard sprint, all in under 12 seconds
Be able to climb an 8 foot fence, followed by a 20 yard sprint, all in under 12 seconds
Be able to drag a 150+ pound body 10 yards in less than 10 seconds
Complete a 50 yard obstacle course involving sprinting, jumping, and cornering in under 30 seconds
Continue Learning: Find out some of the police education requirements and tips for applying to local police departments.